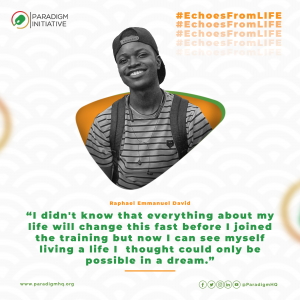 Our training means different things to each of our beneficiaries. To Raphael Emmanuel, the impact of the training on him came as a combination of what he learned from the ICT, Life Skills and financial readiness classes. 
In his words "After I graduated from paradigm. I took time to figure out my future. I went through the past years which I spent without achieving anything. I went back to the thing we learned in the training and that motivated me to take a pen and write down things I needed to achieve in 3 months time which the most important was getting a laptop. I worked towards it without being discouraged. I made sure I saved every penny I had according to what we were taught in the financial readiness classes. Fortunately for me, I saved more than expected and I got myself a DELL laptop which helped me to join an internship program where I honed my graphics designing and coding skills more. 
Unlike other days when I would wake up to do house chores and Zoom off to play football, I started managing my time well which made me have less time to play and more time to study now. I joined groups on social media like graphic designers and web development groups and started getting designing jobs which I was paid for and my joy knew no bounds as  I started earning. 
I grew in knowledge and I started scouting for jobs. This led me to a school who after giving me the job of typing the school examination paper offered me full employment as a teacher/ school graphics designer so now I can say that I have multiple sources of income as I learn from the school and from my freelance jobs. Today I work as a teacher, typist and graphic designer and earn from all these sources.
I didn't know that everything about my life would change this fast before I joined the training but now, I can see myself living a life I  thought could only be possible in a dream.
Thanks to Paradigm Initiative."