Paradigm Initiative in partnership with Internews, AfroLeadership, and CYEED organized a 4-day Digital Rights Workshop from the 18th day of June 2018 to the 21st June 2018 in Douala, Cameroun.
The aim of the workshop was to discuss with civil societies, government, private individuals and other stakeholders in the digital rights landscape of Cameroon and to also train participants on their Digital Rights and on advocacy. This training in June was the third training held in Cameroon as previous training had been held in both Barmenda and Yaounde.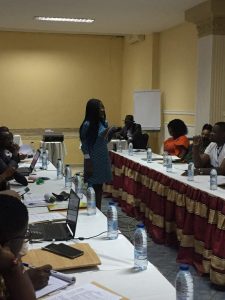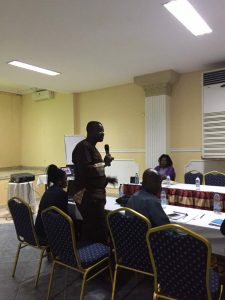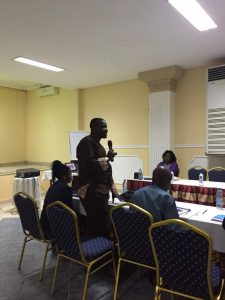 Participants at this workshop were exposed to a variety of training and resources. While the first two days witnessed new participants, the last two days were for selected persons from groups which had already been working on projects surrounding digital rights from the last two sessions.
One of the first and basic subjects on which the participants were trained was on the topic of what Digital Rights entail, in a session tagged  'Digital Rights 101' led by 'Gbenga Sesan, Executive Director of Paradigm Initiative. Participants were trained on what internet and digital rights are, on the power of the internet, privacy surveillance, freedom of expression, opinion, association and so on.
In another more streamlined session on ICT Policy in Cameroon, the Google Policy Fellow at Paradigm Initiative, Rigobert Kenmogne treated issues like the laws and the evolution of ICT policies in Cameroon, ICT players and other factors contributing to the ICT Policy landscape in Cameroon.
The session on advocacy and communications was quite impactful as participants not only learned about strategies for advocacy but also on how to communicate a message. The participants were taught on project evaluation and monitoring, knowledge development, public speaking, creating coalitions and so on.
At the same training, a report was also presented by Adeboro Odunlami, Program Assistant (Digital Rights), Paradigm Initiative. The report embodied a case study on the digital rights situation in francophone African countries. At this session, almost all participants shared experiences on the negative effect of digital rights violation witnessed in their country. Paradigm Initiative also shared some lessons it learned from the Africa NetRights Coalition and the Digital Rights and Freedom Bill.
As the workshop progressed, participants were made to carry out practical tasks and discussions.
A session on 'Building Trust and Relationships' witnessed the participants answering questions such as 'what is the current digital rights landscape in Cameroun?', 'where does my Organization/work fit in?', 'How can we all work together to make each other stronger?' and other pertinent questions
At the end of this session, many participants revealed personal and organizational skills and resources which they'd be willing to share with other civil societies towards the goal of solving problems we had earlier identified.
For instance, a participant offered free workspace and technological support to another participant who indicated that his organization was working on a website compendium of laws and decrees of Cameroon in English and French language. Yet another participant offered free training for the Interns of participant organizations on Digital Media and Digital Rights. Another offered free social media visibility services and graphic design services. Another offered her skill to engender projects and make other Organizations' projects more inclusive. Furthermore, another participant offered digital security training for free. There were also offers of free Newspaper pages for Advocacy materials and subsidized training on Communication, Writing Report and Press releases
Participants were also involved in other hands-on sessions where they prepared solutions to problems projected to occur at the upcoming election. Ideas/solutions presented involved building a coalition to facilitate internet access, writing open letters to the government, sensitization, and education of the electorate, managing post-election violence and so on.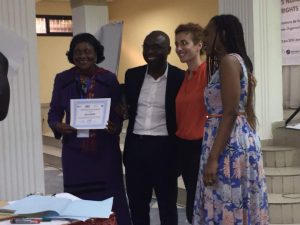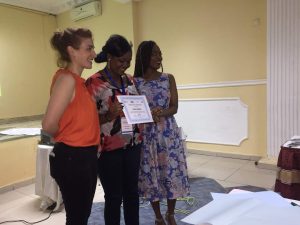 Also at the workshop, Internews shared a guideline with the participants to facilitate a better understanding of its sub-grant application process.
Elevator pitches were also facilitated by all partners at the workshop to train participants on the proper and precise communication of ideas; a much-needed skill for advocacy
More topics treated at the workshop include budget development and project management for their digital rights projects.