By 'Gbenga Sesan, Executive Director, Paradigm Initiative
In August 2013, Paradigm Initiative Nigeria (PIN) sent invitation letters to 53 Nigerians across various sectors – civil society, media, government, private sector, academia, diplomatic missions, international organisations and students – asking them to join us at what would be Paradigm Initiative's first Internet Freedom Forum (IFF) on September 20, 2013. The main item on the agenda was an Internet Freedom Charter for Nigeria, and the meeting followed a series of engagements that led to the publication of a policy brief titled Nigeria: Making A Case For Enduring Internet Freedom by PIN on May 29, 2013.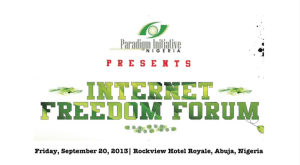 After the first IFF, we published another policy brief on November 29, 2013, titled An Internet Freedom Charter for Nigeria, to highlight the Forum's proceedings, outcomes of discussions, details of the draft Charter and prevailing digital rights issues in Nigeria. We eventually decided to rename the outcome document An Internet Freedom Declaration for Nigeria to establish the true legal status of the document and hosted a second IFF in Lagos on December 13, 2013. The second Forum provided the opportunity to develop the document into a working document, with a new vision of turning it into a legislative document that could become Nigeria's Digital Rights and Freedom law.
A 2014 edition of the Forum was planned for August 22 and 23, 2014, in Abuja, setting off what would become a rotation between Lagos and Abuja over the next few years. The 2014 Forum had participants from Cote d'Ivoire and Uganda even though the focus remained on Nigeria, and it was at that 2014 Forum that the working document added details of what would form the content of a Digital Rights and Freedom Bill for Nigeria. Paradigm Initiative's Forums have always focused on action because we believe that while networking opportunities and panels are great, one of the best ways to move the needle on issues is to bring the power of diverse stakeholders to a location where they can discuss previous efforts, plan desired future outcome and work on what would be the bridge between both.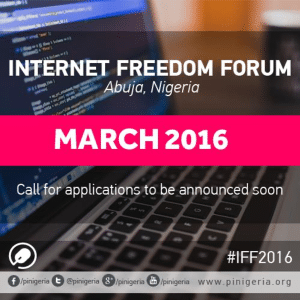 Even though 2015 was a difficult election year in Nigeria, we planned to host IFF 2015 on December 2 and 3 but did not get funding early enough to proceed. When we chose the next available date, March 8 and 9, 2016, we moved the Forum from the second half of the year to the first half, where it continues to date. This proved very helpful in allowing us to bring outcomes to the Forum and have enough time to discuss what could be done for the rest of the year. It was during the fourth IFF in Abuja that a member of Nigeria's House of Representatives at the time, Chukwuemeka Ujam, took on the challenge and announced his sponsorship of the Digital Rights and Freedom Bill.
IFF 2016 was held in Abuja with participants from Cameroon, Côte d'Ivoire, Gambia, Ghana, Kenya, Nigeria, Senegal, South Africa and Uganda. Given the reports of digital rights violations we were documenting as part of what became our annual pan-African digital rights and inclusion report, Londa, it was at this Forum that I stated that "…it is important to have a conversation on the safeguard of citizens' rights in the online space so that people are not wrongly accused and so that when people who work in the security agencies become ordinary citizens, they will also be protected by the frameworks put in place." This laid the foundation for the Digital Rights training program that PIN now runs for security agencies and others who typically focus on threats and often miss out on the opportunity to consider the fundamental rights of citizens they claim to protect.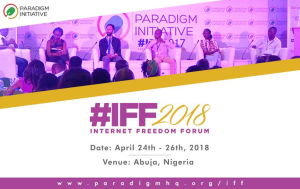 IFF 2017 hosted delegates from 30 (mostly African) countries, and PIN hosted a press conference at the Lagos venue to announce that the Forum would now be planned as a pan-African and bi-lingual event that could allow deliberate conversations across various regional silos, especially given that much of the violations recorded from Francophone Africa were not met with as much support as those from other countries. This is why IFF 2018 was planned over three days (April 24 to 26) and hosted more than 200 participants from 31 countries across Africa, in addition to other countries. We also announced a name change for the Forum, from the Internet Freedom Forum (IFF) to the Digital Rights and Inclusion Forum (DRIF) to highlight the need for inclusion within the context of our digital rights conversations and efforts.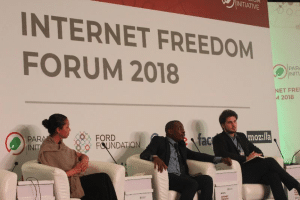 At the end of the 7th Forum held between April 23 and 25 in Lagos, Nigeria, we decided that it was also time to move the event beyond its erstwhile home country in order to deepen participation and benefit from PIN's new regional operation and presence. In 2019, PIN hosted 352 delegates from government, civil society, business, academia, media and the private sector, from 32 African countries and 6 others. The 8th edition in 2020 was supposed to be the last edition in Nigeria, at least for a while, but COVID-19 lockdowns began just a few weeks before the event's April date. 
DRIF was hosted as a hybrid event in 2021, but it retained its focus on bringing actors together for discussions and working together. DRIF 2021 was held over 18 days and across 10 African countries where small groups gathered to replicate the DRIF experience while all being connected to the virtual opening and closing sessions. It was both challenging and exciting, but the PIN team never shies away from hard work and having fun while doing it. From April 12 to May 20, 2022, we hosted 1,387 participants for the 9th edition of DRIF, with 876 in-person participants across Angola, Cameroon, Central African Republic, Democratic Republic of Congo, Ethiopia, Gambia, Ghana, Kenya, Malawi, Namibia, Nigeria, Senegal, Somalia, South Sudan, Tanzania, Zambia and Zimbabwe.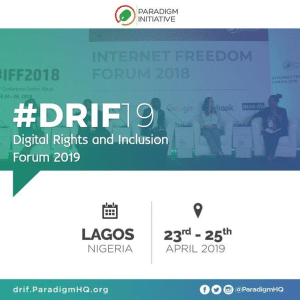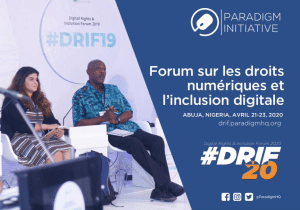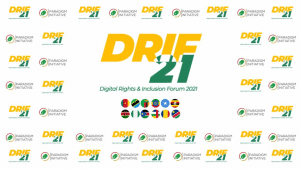 In those two years, we had the opportunity to make diversity mainstream by providing real inclusion for everyone, and we have retained this in our work such that when we host physical events, anyone can follow the conversations in real-time, and there are opportunities for on-the-ground action across multiple countries where contexts differ. As the 10th edition of the Digital Rights and Inclusion Forum (formerly known as the Internet Freedom Forum) begins this week in Nairobi, Kenya, it is important to look back, appreciate where we are and look forward.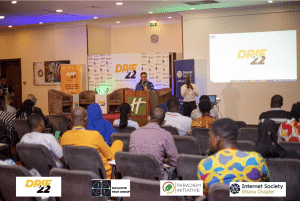 PIN's digital rights and inclusion forum started with action in mind, and even the focus grew organically from Nigeria to additional countries before it became a regional conversation. Our funding partners have helped translate our plans into visible action, and the Forum's impact includes various initiatives, collaboration among various organisations across borders, offshoots such as the Net Rights Africa coalition where multi-stakeholder conversations help break silos, and bringing African digital policy issues to the world while discussing global issues within Africa's context, among others.
This week, the Paradigm Initiative team is excited to host participants from the academia, civil society, international organisations, media, government, private sector, technical community and United Nations agencies, from 35 African countries and 13 others, for three days of in-person conversations that will start in Nairobi but impact the Global South over the next months of partnership follow-up, project implementation and other efforts. We are also excited to host organisations like the Global Network Initiative that have brought their main activities to the Global South, on the sidelines of the 2023 Digital Rights and Inclusion Forum.
At PIN, we are clear on the need to expand the scope of DRIF to the entire Global South to take existing conversations forward and deepen ongoing collaborations among civil society actors in the South. We will continue to deepen Forum conversations, ensuring independence from any stakeholder to allow for a continued safe space for civil society actors as well as allies from the government and the private sector. The Forum is called DRIF because we strongly believe that inclusion is a rights issue, and as conversations following the COVID lockdowns are now centring inclusion, we are excited about working with existing and new partners to provide a safe space for difficult conversations, catch up on efforts by various stakeholders and also strengthen post-Forum action by participants.
I can not wait to welcome all participants to #DRIF23 in Nairobi, and to give wings to the words, Karibu DRIF 2023!