The government of Uganda recently passed a law that will impose tax on social media which will be implemented on 1st July 2018.
This social media tax is targeted towards all people in the country regardless of economic status. Ugandans will have to pay 200 Ugandan shillings (0.05USD) a day to use popular platforms like Twitter, Facebook, and WhatsApp. Mobile prepaid data in Uganda for 1 gigabyte already costs more than 15% of the average Uganda citizen's income, which is much higher than the internationally recommended standards to ensure reasonably priced Internet access.
The government has claimed that this social media tax is to 'raise revenue' but the challengers have contended that this is in a bid to stifle the freedom of speech due to the growing criticism of the President Yoweri Museveni who has been in power for a little over 3 decades now. President Yoweri Museveni requested this new law in a letter saying that the government needed resources "to cope with the consequences of social media users, opinions, prejudices and insults". In short a law to curtail the freedom of expression on the Internet.
According to Internet World Stats, about 19 million people in Uganda use the Internet which makes about 42.9% of the population. This new tax will widen the already huge digital divide in the region by limiting Internet Access especially to the poor citizens of Uganda who cannot afford to pay the tax.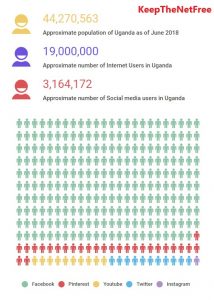 The National IT survey 2018 Final Report showed that one in nine internet users in Uganda is on a social media networking platform, with the most popular being Facebook and WhatsApp.
Civil Society organizations in Uganda have termed this move by the government an attempt to further limit the freedom of expression in the country.  The country has in the past been marred with digital rights abuses such as two Internet shutdowns where social media sites and mobile money services were completely offline.
Paradigm initiative urges the government of Uganda to withdraw the taxes. There is a need to review that law as it is in breach of Uganda's duties and obligations under national, regional and international standards and frameworks to defend and uphold freedom of expression. It is vital that Uganda invest in the sector to ensure that all its citizens have access to affordable, reliable and open Internet.