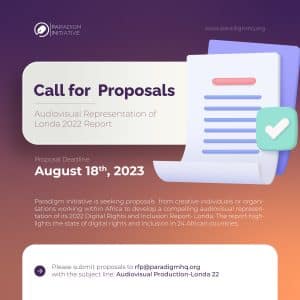 Paradigm Initiative (PIN), a leading pan-African organisation is seeking proposals (technical and financial) from creative individuals or organisations working within Africa to develop a compelling audiovisual representation of its 2022 Digital Rights and Inclusion Report- Londa. The report highlights the state of digital rights and inclusion in 24 African countries.
About Paradigm Initiative
Paradigm Initiative (PIN) connects underserved young Africans with digital opportunities and ensures the protection of their rights. We have worked in communities across Nigeria since 2007 and across Africa since 2017, building experience, community trust, and an organisational culture that positions us as a leading social enterprise in ICT for Development and Digital Rights on the continent.
Across our regional offices in Nigeria, Senegal, Zambia, Kenya, Zimbabwe, Cameroon, the Democratic Republic of Congo (DRC), and beyond, we have impacted youth with improved livelihoods through our digital inclusion and digital rights programs. The organisation's programs include Life Skills. ICT. Financial Readiness. Entrepreneurship (LIFE) Training Program, a digital readiness workshop for girls, and Life at Schools Club Program.
 PIN has also built online platforms that educate and serve as safe spaces for reporting digital rights violations. These mediums, in the form of reports, short films, and educational online platforms, include Ayeta and Ripoti. 
Report Highlights
The Londa report indicates that access to digital technology in Africa remains a huge challenge more so for persons with disabilities and underserved communities.
 According to the report, access to digital opportunities by women and girls including Information Communication Technology (ICT) education requires improvement. It also points out that as much as governments have continued to increase efforts to bridge the digital divide and build digital economies, men have continued to outrank women in various indices, from the adoption and use of ICT tools to employment opportunities. It further discusses the issues surrounding data privacy and governance and the lack of accountability and oversight mechanisms for digital identification systems. Notably, Nigeria has taken steps towards a better data protection framework by releasing a draft Data Protection Bill (Nigeria now has a Data Protection Act), improving the Nigeria Data Protection Regulation.
The report also decries the introduction of prohibitive levies and taxes, which emerged as a common theme in the period under review, further impeding general access as seen in Ghana, Malawi and Uganda.
 Regarding the Universal Service Fund (USF), the report mentions that the fund exists in 22 out of 24 countries reported. These countries include; Zimbabwe, Zambia, Tunisia, Uganda, Togo, The Gambia, Tanzania, Sudan, Rwanda, Nigeria, Malawi, Kenya, Ethiopia, Central African Republic, Benin, South Sudan, Namibia and Botswana. However, information on the amount of funds raised, transparency, and impact varies widely among the 22 countries.
Rationale and Scope
PIN seeks for a creative audiovisual representation that tells the story of the state of digital rights and inclusion in Africa. The output should be a representation of the 2022 Londa report and must capture key thematic areas, instances and elements highlighted in the report in a way that can be viewed and understood by diverse members of the society. The language used must be simple, inclusive, and comprehensible to reach a wide audience.  
Timeline
Proposed ideas are expected on or before August 18th, 2023. PIN expects a finalised creative product by October 31st, 2023.
Deliverables
PIN is hiring a production company to do the following:
Develop a creative audio-visual representation of

Londa 2022 Report

 

The output should be either in English or French with translation into French, English, and Swahili depending on the original language.

The production company should have modern equipment and qualified personnel capable of delivering excellent audiovisual production with guidance from PIN's communications team.

The production company must be open to meeting with the PIN team regularly for any clarifications and updates.
Production Tasks
The production company will do the following:
Plan, develop and produce the audiovisual product in either English or French as the original languages, with translation into French, English, and Swahili depending on the original language by

October 31st, 2023

.

Finalise the original production according to feedback provided by Paradigm Initiative.

Use the latest high-quality equipment/software.

The production company will produce all materials, soundtracks and music used from scratch.
Qualifications, Background, and Experience
The ideal company must have high-level technical/professional expertise, and creativity. The successful applicant is required to:
Submit samples of previous productions directly produced by the applicant.

Demonstrate competency and creativity in audiovisual productions
The supported French accents include French, Swiss, and African (Togo, Cameroon, Ivory Coast, Senegal, Mali, Burkina Faso, Congo, Benin, Chad, Cameroon, Gabon, Central Africa Republic, Niger, Mali, Morocco, Tunisia, Algeria).
 Submission
The proposal should provide the following information:
Technical Proposal:

Outline and methodology for undertaking the production as well as detailed work plan showing the assignment's important activities and milestones.

Financial Proposal:

Include a detailed quotation for the production showing all necessary costs to be incurred.

Showcase evidence of having capacity to syndicate and distribute the audiovisual product

The proposal must also include the contact details of three references. Please submit the proposal with the works portfolio as required and mentioned under the qualifications section above. 
If this RFP describes your company's capacities, kindly submit your proposal by August 18th, 2023. PIN welcomes collaborative submissions between two or more applicants.
Please submit proposals to rfp@paradigmhq.org with the subject line: Audiovisual Production-Londa 22